UPDATE! 9 Circuits has been replaced with the new and improved A Beginner's Guide to Circuits. See below for more details.
New Edition: A Beginner's Guide To Circuits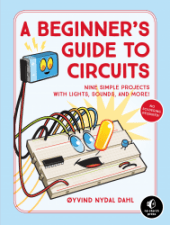 A Beginner's Guide To Circuits is an eBook that will help you become great at building circuits. It contains 9 circuit-building challenges you'll have to overcome. And you'll get to build things like a game, a homemade musical instrument and a cookie-jar alarm.
The projects range from easy to medium and they're suitable even for complete beginners. Learn how and why each circuit works. Improve your electronics skills and have fun at the same time!
I've written a new and updated edition of this book together with No Starch Press. The book is available in print and with component kit – click here to buy it directly from me.