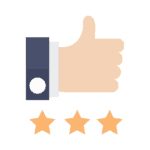 We've listed a few Ohmify reviews below to give you an insight into "life on the inside". We're committed to giving our members a high-quality experience both through content and support. We always try to help each and every one of our members to reach their goals, no matter what they are. And we never give up on anyone.
To our members: We can't thank you enough for the fantastic reviews you've given us! See a few of them below… Reading these messages as they come in is the best part of our day 🤩

Reviews From Members
Thank you, Oyvind, for creating such cool educational websites/forums/books/etc.! Ohmify appears to be much better suited for strictly electronic makers, and specifically the FUTURE makers of the world.

David Weissman, United States
Ohmify cuts to the essence and is helping me jump into making things much faster. It's the right medicine at the right time in my journey, and you can quote me.

Mike Kimbriel, United States
Ohmify is a very good platform to learn electronics, with lots of sample projects. I wish I could have come across this when I was in high school.

Sandhya Mudunuru, United States
I have to say that your site and your courses are perfect for me, almost as if you wrote them specifically for me.

Doug Roberson, United States
Independent Ohmify Reviews
I understand that reviews get more weight when they're found off-site. So if you prefer, you can also find independent Ohmify reviews that members have left on Trustpilot and on our Ohmify business page on Google. Just search for 'Ohmify' on Google and click on the reviews link next to the stars in the business profile box that should appear in the result.
If you know about other review sources, please let us know.