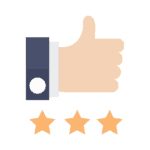 I've listed a few Ohmify reviews below to give you an insight into "life on the inside". I'm committed to giving my members a high-quality experience both through content and support. I always try to help each and every one of my members to reach their goals, no matter what they are. And I never give up on anyone.
To my members: I can't thank you enough for the fantastic reviews you've given me! See a few of them below… Reading these messages is the best part of my day 🤩

Reviews From Members
David Bowles (8814)
22. September, 2020.
This website has introduced me to products and circuits with exciting challenges. It is easy to spend a little time researching a subject of interest and receive a lead or payoff of another kind. I really appreciate being able to ask questions, get answers and monitor concerns of other members. Thanks a million for the effort you and your staff provide for us.
Mario Brunet
22. September, 2020.
Ohmify is driven by a young electronics enthusiast and excellent at explaining things simply. He is assiduous in the support provided to the members, answering quickly any questions asked in the various forums, whether they are projects, technical questions, measurement tools, computer tools... Follow-up with all members on a weekly basis or at specific workshops is ongoing. It also seeks to meet the needs of members and always seeks new and interesting ideas for courses or workshops. Two thumbs up Oyvind !!
IF YOU WANT TO LEARN ABOUT ELECTRONICS FROM THE BOTTOM, THIS IS THE PLACE, AS NO QUESTION IS TOO SIMPLE, AND YOU WILL NOT BE MADE TO FEEL INFERIOR FOR ASKING THAT QUESTION. MEMBERS ARE FROM ALL AROUND THE WORLD, AND ARE GLAD TO HELP, AND ALSO LIKE TO SEE SOMEONES PROGESS.
Cheryl Christensen
22. September, 2020.
Ohmify is a great resource! The videos are well done, including clear explanations and good audio and video quality. The exercises include schematics as well as text to introduce the field of electronics. Makes these fields approachable!
Matthew
22. September, 2020.
Excellent source of information for electronics beginners. Covers a diverse set of topics, plenty of opportunities for interactive learning, and hosted by someone who seems genuinely interested in teaching. My highest recommendation.
Thomas Jones
22. September, 2020.
Ohmify does a great job of explaining the concepts at a level that keeps my kids (15-12 years) interested but is also detailed enough to keep an adult interested as well.
Bob Bellomy
22. September, 2020.
I tried taking a course online from MIT, which was great until they went into the phase where I had to resurrect my calculus from over 50 years ago in college. That would have been way to much to take own at this age. The Ohmify course is perfect for me because it requires no higher math and works exactly the way I like to learn, at my own pace. The component package that comes with the lifetime course is also a good starter kit. It's nice having Oyvind right there working with the students when needed and getting updates on his experiences that translate directly to learning advancements for me. My main goal in taking this course is to be prepared to fix any electronic items I have that fail.
Ishmael Thomas
22. September, 2020.
The Ohmify learning platform has been a tremendous help in relearning basic electronics. Their teaching style is easy on my senses and engaging so that I don't feel intimidated by the learning topics. They are very responsive and interactive. Furthermore, they take the village approach to ensure that we have a community of support. I highly recommend Ohmify to anyone interested in learning electronics!
Mr Michael Strefford
22. September, 2020.
If you have an idea for an electronics project and you need some friendly advice and assistance then this is the place to go. The Ohmify Members website is full of projects and exercises which will help you to understand electronics, circuit design, and even PCB design and manufacture. Within the worldwide team of members there is usually someone who has tried your chosen project before, and will give you help and guidance in the very popular Community Forums. For the complete beginners there is a series of easy to follow tutorials with practical projects to test your progress. If you are an expert or a total beginner I recommend this valuable resource.
Rahmat Budiharso
22. September, 2020.
Great electronic learning resource I've subscribed and the courses are easy to follow and cover in-depth topic.
Thank you, Oyvind, for creating such cool educational websites/forums/books/etc.! Ohmify appears to be much better suited for strictly electronic makers, and specifically the FUTURE makers of the world.

David Weissman, United States
Ohmify cuts to the essence and is helping me jump into making things much faster. It's the right medicine at the right time in my journey, and you can quote me.

Mike Kimbriel, United States
Ohmify is a very good platform to learn electronics, with lots of sample projects. I wish I could have come across this when I was in high school.

Sandhya Mudunuru, United States
I have to say that your site and your courses are perfect for me, almost as if you wrote them specifically for me.

Doug Roberson, United States
Independent Ohmify Reviews
I understand that reviews get more weight when they're found off-site. So if you prefer, you can also find independent Ohmify reviews that members have left on Trustpilot and on our Ohmify business page on Google. Just search for 'Ohmify' on Google and click on the reviews link next to the stars in the business profile box that should appear in the result.
If you know about other review sources, please let us know.