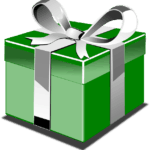 Do you want to give the gift of learning this year? Below you can gift a one-year membership for Ohmify, including a starter's component kit, to a loved one.
Note: If you buy before the end of 2019, Getting Started With Electronics and five other ebooks are included as a bonus.
You'll get the gift card sent to your email. From there, you decide if you want to print it out and deliver it physically – or if you prefer to send it to your loved one by email.
The Gift Card includes instructions on how to redeem the one-year access and component kit.
To buy a Gift Card, click the Buy-button below and follow the on-page instructions: