The guitar is the most popular musical instrument in the world, and like any other popular instrument, it has an electrical version of it. There is a lot of science that goes around electric guitars, but it seems really not that unique to us because we see it all the time in many different versions. But today, I'm bringing you an exception, the craziest guitar ever made, The Hydra.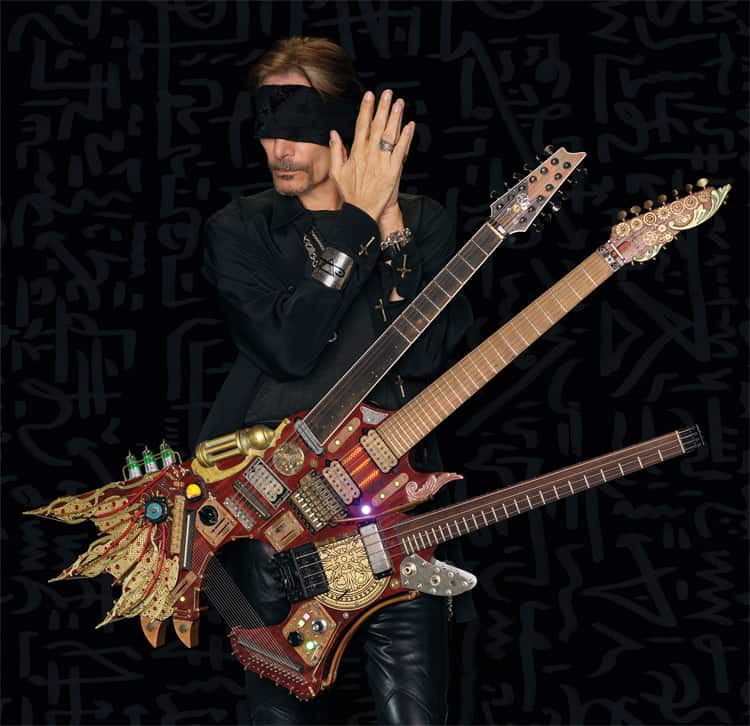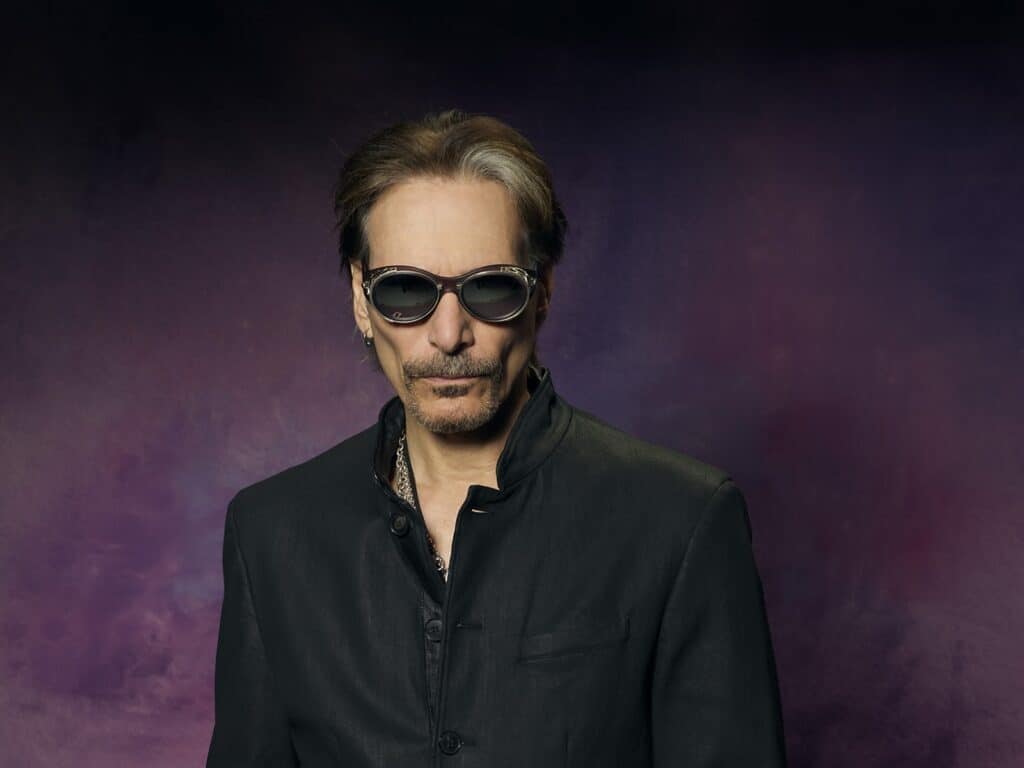 He has a HUGE collection of guitars, and each one of them has a unique name, theme, and reason to be. In fact, you will already see a lot whole of craziness in his collection: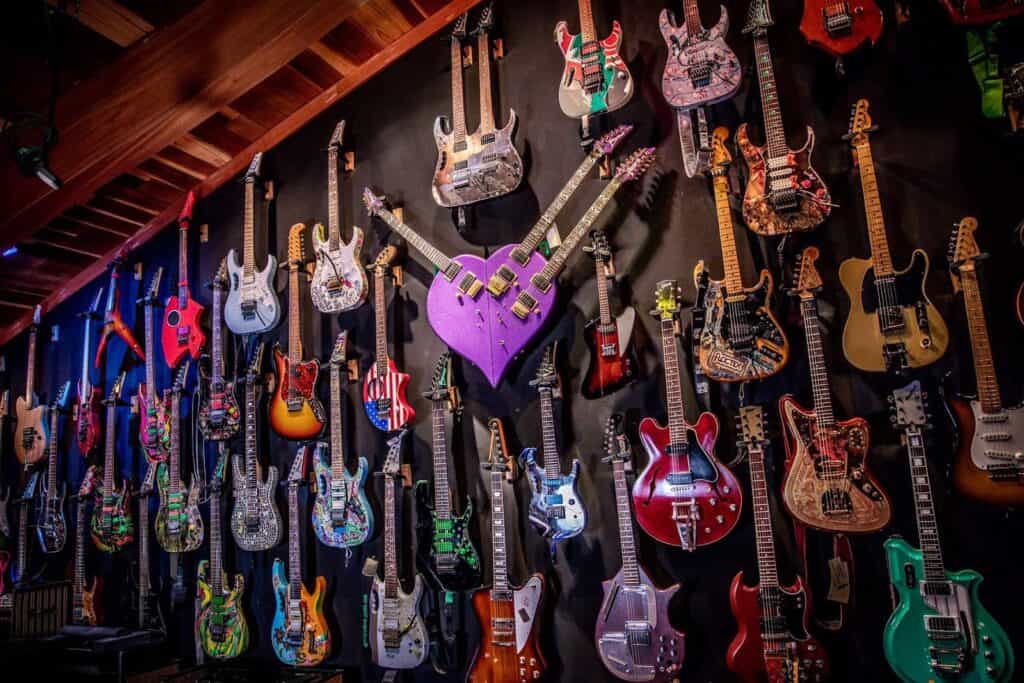 But this time, he pushed it to the limits and, with the help of Ibanez artists, engineers, and luthiers, created The Hydra. A magnificent beast that holds three different necks, and bridges, meaning that it holds three different guitars. One 12-string guitar with a half fretless neck, one 7-string guitar, and one bass guitar with the lower strings also in a fretless neck. But it doesn't end here, it also has an onboard MIDI controller, an electrical harp, and some very interesting inputs that allow him to do some weird and unique sounds.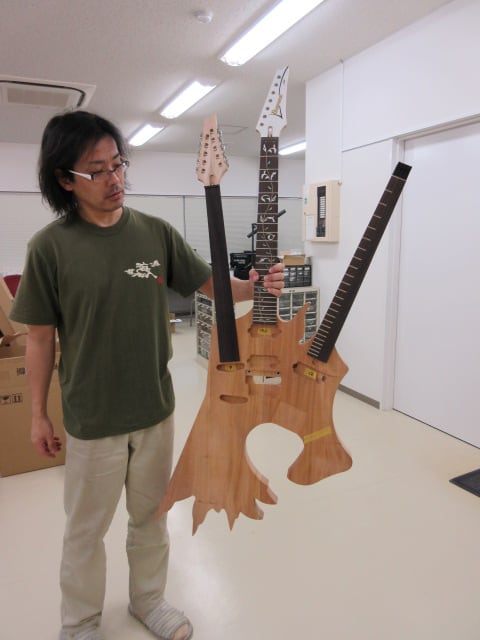 And the fun for us just started, it also has a bunch of electronic interfaces, devices, and decorations, at the point where it is really hard to notice what is just "for the looks" or what is actually part of the electronic design of it. I think one of the most interesting bits is the fact that it uses a 4-way out ethernet connection to connect it to its unique amplifier which has 4 different outputs to connect to 4 different output devices. You can also connect an extra lamp in its "extra lamp input"… as weird as it sounds.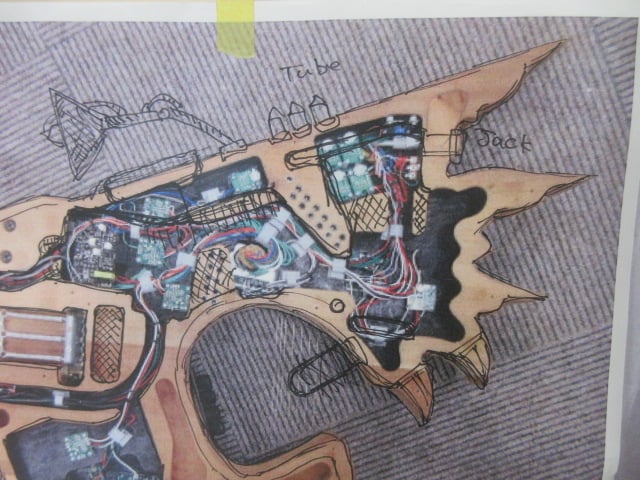 Let's talk a little bit about the electronics side of this behemoth. Look at the picture above, you can see the decorative tubes, and also an actual lamp connected to the guitar, this means that the power that this thing need is not something simple. But here comes the weirdest thing, as far as I could find on the internet, it only uses a 9V battery inside of it, I don't know how much power they could be bringing from the ethernet interface, but it can't be that much. 
 On the other hand, you also have the ethernet connection they are using to take the signals to the amplifier, which is something that you don't see every day but it totally makes sense when the other option is to have 4 different cables connected to the guitar, and by the way, they had to do that with the first prototype. They made this thing as complicated and modular as they could make it, every guitar has capacitive buttons that control them, and knobs that control either the volume or in the case of the 7-string guitar, a sustainer knob that makes its tone change in very weird ways. 
Truth is, I would love to find a schematic of this guitar and see exactly what they did inside, it is going to take years until we see the insides of it in detail. There are a couple of things that I have no idea what is the exact purpose for, like the "seducer", which he touched in the video to change the tone, but I can hardly tell what it is actually doing. In any case, you can watch the characteristics that we all know until now in the presentation video, and you can also see the guitar in action in the music video embedded below.
The Hydra: presented by Steve Vai and Ibanez
Steve Vai – Teeth of the Hydra (Official Music Video)
Here you can go to the official page of the guitar, and enjoy the whole gallery about it: https://thehydraguitar.com/