Carl Bugeja is a great engineer trying to invent new things with electronics. 
Recently he published a great video where he is making a tiny robot.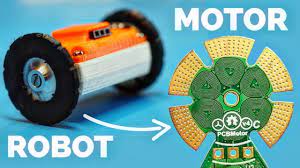 When making tiny things in electronics usually you need to decide what you want to give up on, a bigger battery, and performance, but with this project, he wanted to see if he is able not to give up on any of this.  

He wanted to design a motor that is super thin but at the same time has enough torque to drive wheels. He had a few tries, make sure to watch the whole video since he is showing the whole process and all of the mistakes he made. 
With better mechanical design he succeeded to have a larger battery. 

After the successful mechanical design and a good battery, he needed to find an easy way to charge and switch the robot, this step might seem easy but, it's not quite simple to find a switch that is lightweight and also able to handle 600mA, so he chose to use just a three pin header, two pins can be used for charging but also after shorting the other two pins they can turn on the robot. 

Make sure to watch the whole video there are a lot of cool things to see there, enjoy!